Mission Statement
We strive to live up to our name, Northway Family Dentistry, in that our patients are indeed family members. From the moment they call to when they walk into our office and are greeted by our staff, we want them to feel at home, while acknowledging that patients have variable priorities.

Our family dentists in Grandville & Grand Rapids, MI continually strive to offer our patients the same excellent care we provide our own family members.

Quality, promptness, and concern for their comfort and fears are a given. Every effort will be made by our team to overcome the barriers preventing our patients from receiving the care they deserve.
What To Expect From Our Dentist Office
Dental care is vital to the overall health of you and your family. Our gentle, caring expertise forms the foundation for a lifetime of beautiful smiles.
We are committed to serving you in the most pleasant and professional atmosphere possible. Our office procedures are designed for your comfort and safety. We are proud of our caring staff members who are dedicated to making your visit a positive experience. Our personal goal is for you to enjoy the benefits of good oral health and appreciate our efforts to provide quality dental care.
To learn more about our dentist office and what to expect as a patient, visit the pages below or feel free to contact our family dentist today. Our staff is proud to serve patients across the Grand Rapids, Cascade, and Grandville, MI area. We look forward to partnering with you in the care of your teeth for a lifetime.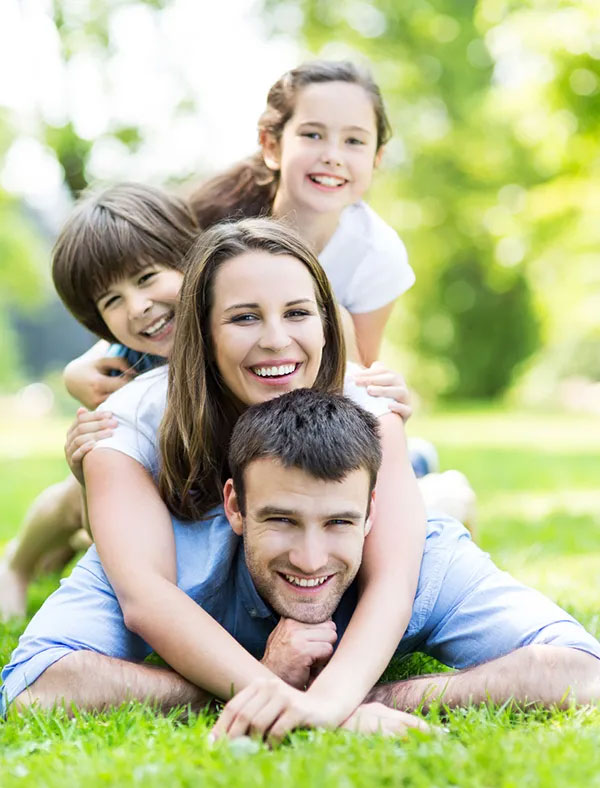 Your First Visit
During your first visit, we will take the time to get to know you and your health. We will take the necessary X-rays and examine teeth for decay and gum/bone disease. We will also evaluate the soft tissues for cancer and the alignment of existing teeth. Patients needing more extensive treatment may require a separate consultation appointment.
At or before your first visit you will receive a Health History Form to complete (please use the Pediatric Health History Form for children under 18). To save time at your first appointment, we encourage our new patients to complete this form ahead of time and bring it with them to our office.
Patient Comfort
We want you to be comfortable in our care. Our dentists and hygienists provide a relaxed and positive atmosphere. We use advanced technology when it can offer increased comfort and more exact results. Patients are always informed before we start a procedure, so you'll be confident knowing what to expect and why it's needed.
For your added comfort in the office, we offer:
Medication/sedation techniques
Single tooth anesthesia (STA)
Nitrous oxide (at no charge)
Encourage patients to bring headphones/ music to help distract from noises in the office
TV with satellite dish
For kids, we offer diversions and fun rewards, which may include:
Sunglasses (to block the overhead light)
TV with movies or cartoons
Hand mirrors (to see what is happening to their teeth)
A prize from the "Treasure Chest"
Balloons
A new toothbrush, toothpaste and floss
Message from Dr. Northway
Dear friends,
We continue to be increasingly impressed with the options 'cosmetic dentistry' offers our patients. Research in this area exploded during the '90s, forever changing the materials, techniques, and durability of the procedures we now perform. Gone are the porcelain-over-metal crowns with their black gum lines and unnatural eggshell white look. In their place, we have all-porcelain bonded restorations of unmatched beauty.
As a result, although every case is unique, we are now able to design smiles to correct virtually any problem our patients may have. Today there is no need to be troubled with yellowed, stained, or chipped teeth. Misaligned, crowded, or open spaces can usually be corrected in days.
Cosmetic dentistry has moved from the optional treatment it was years ago to the forefront of the profession. Combining the benefits of aesthetic beauty with conservative removal of tooth structure, we can achieve dramatic results that are both functional and long-lasting. We encourage you not to underestimate the impact a smile enhancement may have on your social, business, and personal lives.
We are extremely proud of the level of care we provide our family of patients. Should you have any questions or would like to schedule an appointment, please don't hesitate to contact us.
Sincerely,
Tom Northway, DDS
What To Expect From Our Dentist
A child's first visit to the dentist will influence his or her oral health, possibly for the rest of his or her life. It is very important to us that this is a positive experience. The first appointment, or "happy visit," should occur between the ages of two and three. We accept new patients from three years old and up. Our patients come to us from all different backgrounds, expectations and priorities, and we try hard to provide them with service that makes them most comfortable.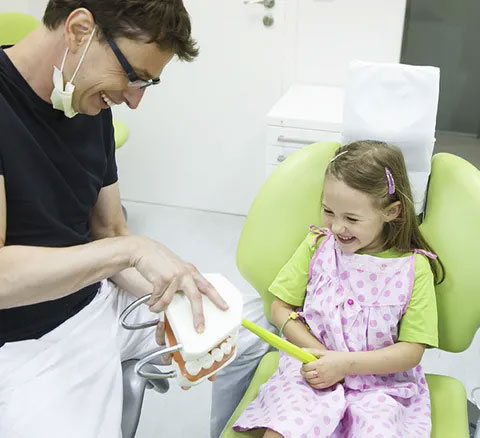 Parents can help to make this a positive experience:
Make the appointment for earlier in the day when the child is well-rested.
Tell your child about the appointment, but try not to build it up in the child's mind as a major event.
Remember that children will pick up on your anxiety, so remain calm and neutral and allow our hygienists and dentists to do their best to establish trust with your child!
At the first visit, the child will get to explore the dental chair and meet the dentist and hygienist. The dentist will examine the child and the hygienist will polish the child's teeth. Dental X-rays may or may not be taken. We will evaluate the child's oral hygiene and provide instructions accordingly.
Much of this "happy visit" will revolve around keeping the child comfortable and entertained. Some children will tolerate more than others. Sometimes getting a child in the chair and meeting the dentist is all they can handle in the first visit.
Parents are welcome to accompany their child during visits. A child's behavior, good or bad, is often influenced by the presence of the parent; because of this the parents may be asked to remain in the waiting room. Many children will be more in tune with the dentist or hygienist when the parents are not in the room. If you are present for your child's treatment, please try to remain a neutral party and realize we are working very hard to establish trust with your child. Our ultimate goal is to provide care in a safe and cooperative environment.
To schedule your first appointment, please contact us or request an appointment online.