Cosmetic and Pediatric Dental Technology
Northway Family Dentistry is committed to bringing the most effective, affordable technology to our patients. As a group practice, we are able to invest in tools and training that individual dentists can't afford. In fact, we are often the first in the area to bring a new technique to West Michigan.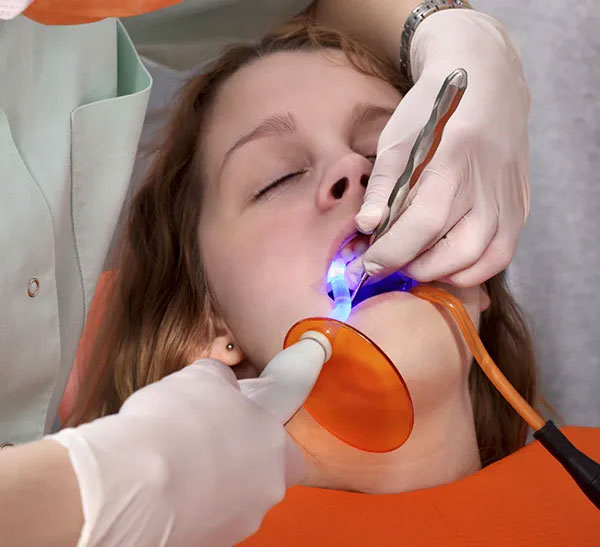 Some of the advanced benefits that we offer include:
Single Tooth Anesthesia (STA): A precise, painless, and proven method of delivering anesthesia without the dreaded needle injection and numb tongue, lips, and face.
Digital panoramic X-rays: Remember sitting through 18 rounds of X-rays, moving that plastic bite splint from spot to spot? With our digital X-ray, there's no need for sensors in your mouth and we're done in 15 seconds. The camera rotates around your mouth, using a fraction of the radiation used in the past.
Intra-oral cameras: These tiny cameras fit comfortably in your mouth, displaying a remarkably clear, enlarged picture of your teeth on the computer screen. This is a great way to help our patients understand what is going on with their own teeth, before and after procedures. It is also a helpful tool for taking the still shots needed for lab and insurance purposes.
Laser cavity detectors: What if you could catch a cavity earlier, before it's even visible to other detectors, with no discomfort and at no additional cost? Our laser is safe, fast, and 75% more effective than previous detection methods. The test takes just seconds as part of a routine exam.
CEREC CAD-CAM crowns: We are the CEREC leader in West Michigan. This ultra-precise and fast method of creating restorations is one of the most impressive advances in recent years. Using a computer to measure and shape your crown, we can fit remarkably durable and attractive restorations in just one visit, while at the same time retaining more of your natural tooth than was possible in the past.
Chairside computers: While other offices were adding computers to their business department, we added them in every treatment area. This allows our hygienists and assistants to schedule future appointments, explain fees, estimate insurance coverage, and comfortably handle finances. This virtually eliminates inaccuracies in billing and scheduling, which can unfortunately occur between the treatment providers and the business office. Our computers also are loaded with informative videos, allowing you to learn more about conditions and procedures at the touch of a button.
Sterilization: For our patient safety, we employ the strictest sterilization techniques, which even exceed the minimum OSHA standards.