Single Tooth Anesthesia (STA)
More than 40 percent of Americans don't visit the dentist annually because of fear, with the single greatest source of anxiety being a shot of anesthesia.
We can understand why. Since 1846, dentists have been using conventional needles to numb teeth. On the upper teeth, it involves injecting next to the bone and letting it soak through to the tooth.
On the lower, the more dreaded shot, it requires injecting through a muscle on the inside of the jaw and numbing not only the teeth but also the lip, tongue, and much of the face. Most of you can relate to this with apprehension.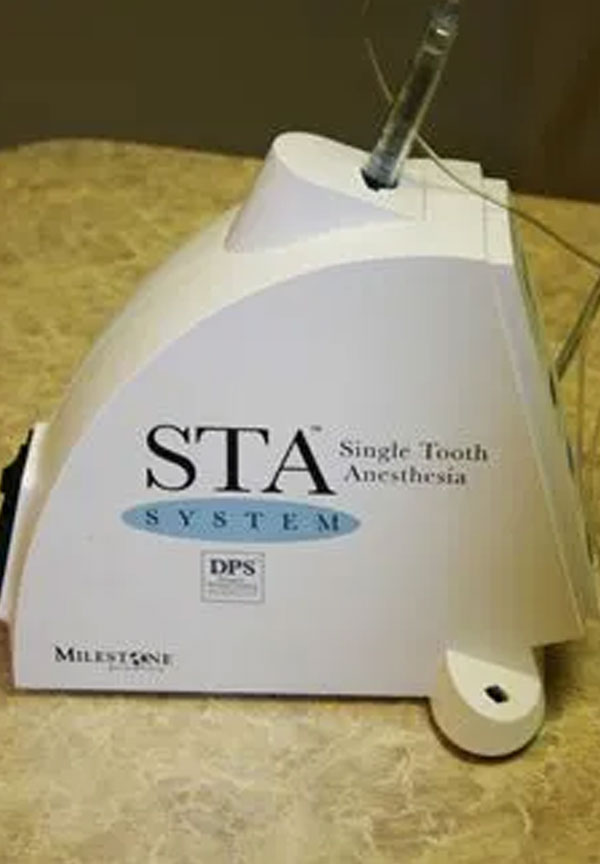 We Take the "Ouch" Out of Shots!
Now we have STA, or Single Tooth Anesthesia, from Milestone Scientific. It utilizes an "intelligent" computer-controlled anesthetic delivery system that carefully measures the pressure needed to slide the anesthetic between the gum and tooth.
During this process, we numb only the tooth and nothing else. We have been delighted and so have our patients—and they are telling their friends!
To learn more, contact us today and ask if STA is right for your next procedure.