Dental Implants
for Grand Rapids, Cascade & Grandville, MI
It wasn't that long ago where the only options for replacing teeth were removable dentures or fixed bridges. Unfortunately, removeable appliances lack the aesthetics, function, and comfort of natural teeth, and fixed bridges require the preparation and weakening of the supporting teeth.
Due to the advancements in technology, dental implants have grown to be one of the top solutions for missing teeth! Dental implants are surgically attached to the bone of the jaw, replacing the root portion and creating a strong base for the new tooth. A dental prothesis such as a crown, bridge, or denture is created to blend in seemelessly with the patient's natural teeth. Then, the prothesis is anchored to the implanted component, permanently attached for functionality and comfort.
A dental implant can be used to individually replace a single tooth or in combination to support multiple missing teeth, making them a great option for many patients. Dental implants are ideal for patients who have a jawbone that is fully grown and have healthy oral tissues.
Research has comfirmed that the long-term (15-year) prognosis for implants greatly exceeds that of bridges and removable dentures in durability and comfort. That is why Northway Family Dentistry offers comprehensive, compassionate dental implant services! Dr. Northway has been using implants to restore missing teeth since 1986. Until 2009, he partnered with the finest oral surgeons in town to surgically place the titanium "roots" in the jaw, from which he would then support crowns, bridges, or dentures. He then completed a five-course surgical residency at the world-famous Misch International Implant Institute and has since placed the titanium roots in his own office, which often presents a great cost savings to his patients.
At Northway Family Dentistry, we provide dental implant options to patients throughout the Grand Rapids, Cascade, and Grandville, MI areas.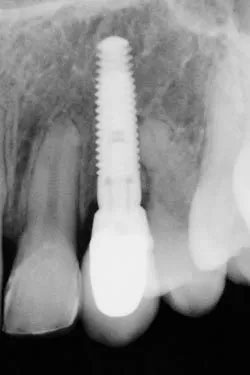 This X-ray shows the implant rooted into the jaw bone.
Contact Us to Schedule a Dental Evaluation
For any tooth replacement technique, a thorough evaluation by your family dentist is needed. Northway Family Dentistry welcome the chance to get to know your dental needs and work with you to restore your smile and self-confidence. Through the use of partial or full dental implants, we are able to provide our patients the support and solutions they need for a beautiful set of teeth. Our offices are proud to serve the Grand Rapids, Cascade, and Grandville, MI communities. Please contact us today or request an appointment online to meet with our cosmetic dentist and go through the dental evaluation process.